We are fortunate enough to have with us an expert on African bivalves, Dr. Rudo von Cosel from the Muséum national d'Histoire naturelle, Paris, France. 
Below are his words on how he's finding the Norwegian MIWA experience: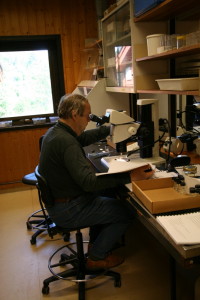 Here I am in the high and cold North, but the weather is not so bad here; after some windy days we have now bright sun which is visible to almost 23h in the evening. The train ride was fantastic. 2 nights and a day, always with the printout of my book under the arm! Indeed the book is a success, and everybody uses it, and the identification work progresses more rapidly thanks to it. However, the identifications are very much more difficult than thought because most samples are grab samples, and the small, very young and ultra juvenile species are much over-represented.
Yesterday we went out at sea with the station boat for sightseeing in the fjord around the marine station, the sea was like a lake which is exceptional!
The food is excellent, and the kitchen brigade consists of two of us and changes every day, whereas the people from the institute go shopping for the food. I am one of the first in the kitchen for doing the morning tea. After the breakfast we sit at the binocular until midday and after the lunch to 20h, of course with a coffee break.
We have treated 557 lots up to now but there remains still a lot to do until Saturday evening.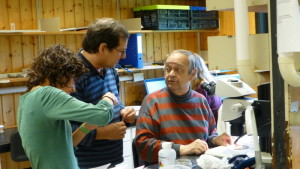 Norway is fantastic, and the colleagues are very very friendly and helpful; it is a real pleasure for me to be in a marine station after such a long time!
Now back to the binocular where some tricky Corbulidae and small Tellinids wait for me.