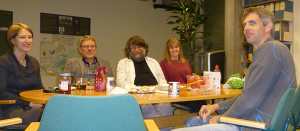 The first weeks of July have been dedicated to the collections of Hydrozoa.  Although the species that is presently  known as Sarsia tubulosa has been almost a totem animal to marine biologists in Bergen since Michael Sars' pioneering studies of cnidarians and other invertebrates on the Bergen coast, this taxonomically complex group has received relatively limited attention from local students.
We are very pleased therefore that Professor Francesco Ramil Blanco and his PhD-student Marta Gil from the University of Vigo are taking the time to examine some of our material  of benthic hydrozoans. Benthic hydrozoans are sitting on various forms of substrate like sand, stones or dead shells. But many are also epibionts, which means that they are attached to other organisms such as algae, crustaceans or even other hydrozoans.
The alternation of generations between polyp and medusa stages, one of M.Sars'  discoveries, is just one of the reasons why these small cnidarians, the more inclusive group that the hydrozoans belong to, have been taxonomically challenging. There are many examples of such different life history stages having been described over time as different species.  But there are also other reasons as to why hydrozoans should be studied more thoroughly. Access to new material, better microscopes and molecular techniques are giving researchers new possibilities to assess the diversity of these strange animals.